Tech
Top Translation Apps that You Need to Download Right Now!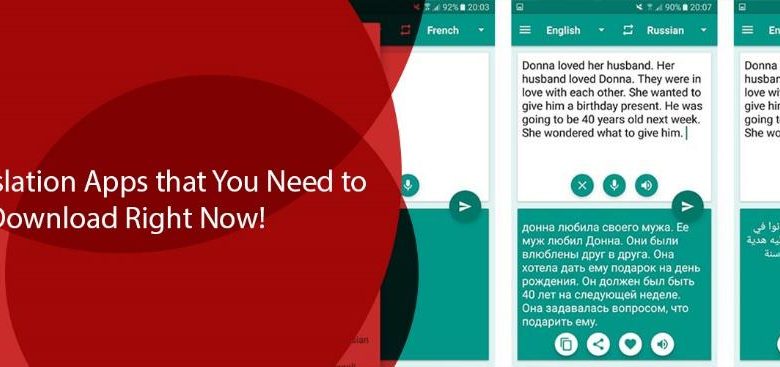 Globalization has been a strong factor for tech innovation and has resulted in vast novelties such as the ever-expanding internet service and the creation of user-friendly applications amongst many others. However, linguistic barriers continue to be an issue. That's where one appreciates the full utility of these translation apps as they help users to communicate without the hassle of involving a native speaker.
Whether users are collaborating on international projects and facing language issues, or traveling to a new country where English is not commonly spoken, these apps will prove to be quite beneficial for their many uses.
Translate
The first app on this list is Translate. As the name goes, this free translator app is compatible with both iOS and Android. The multilingual app supports translations in 90+ languages, while allowing speech translations in four different languages, and even offers the option of camera translations in twelve languages. Users also have the option to translate websites by using the app. Unlike other translation apps, Translate also offers an offline mode for a limited number of languages while the dictionary feature also provides support to interested users.
Microsoft Translator
This is another heavyweight and widely-used translation app on the internet. The Microsoft Translator falls among those free apps that can translate texts from different kinds of forms. So whether a person wants to translate text or a voice message, or even an image among the numerous other options, they can perform the translation without any worry. The app is compatible with both iPhone and Android phones and works well while being both online/offline. Users have the option to translate using the option of some 60+ languages in the app.
Similar to Google Translate; users will have to download the language packs so that the app can easily be accessed in offline mode as well. Advanced features such as image translation utility or pronunciation guides make this app highly useful for the average user. The multi-person translations and translation-sharing feature between different apps make this app one of a kind. This one should definitely be on your phone.
iTranslate
The iTranslate app is one of those apps that comes with both the limited free version and a premium-pricing plan. Considered one of the top-rated mobile apps on both Android and iOS, it can be downloaded on both smartphones. Plenty of reasons show why iTranslate is considered one of the best. For example, it comes with a wide range of translation features. It offers voice and text translations along with the additional option to perform text-to-voice translations.
The app consists of a language dictionary that supports 100+ languages and comes with a visual dictionary, plus a phrasebook that consists of the most common/everyday terms and phrases. Every person needs to install this handy app on their smartphone, especially if they are traveling to a non-English speaking country like France or Morocco. Its easy-to-use interface ensures that no user faces a hassle when they are using this communication tool. And can use it effortlessly on smaller gadgets such as the Apple Watch.
Furthermore, the advanced features prove to be quite useful for the average user. These include the option of transliteration, sharing translations with other users on a variety of platforms, adding translations to the favorites folder, keeping a history of past translations, etc. The app also offers male/female voice translations for different languages. Nonetheless, not all features fall under the free plan and need to be purchased.
Yandex
This translation app is the Russian equivalent of Google. Yandex is another powerful translation mobile app, which currently supports at least 95 languages while being online. There is an offline option also available in which users of the Yandex app can translate native texts to English. These can be done in languages, which are as follows: Russian, Spanish, Turkish, French, German, and Italian to name a few. The app also offers speech translations to interested users.
Even though other translation apps may support a maximum of four languages, Yandex supports image translations in up to twelve languages, which primarily include Russian, Czech, Ukrainian, English, Turkish, Chinese, German, Spanish, Portuguese, and more.
This mobile app performs perfect translations on both Android, iOS, and even Apple Watch. There is the option to translate entire websites and even apps into other languages. But that's not all. This app has additional features, which include a dictionary and a flashcards option that's quite useful for those users who are interested in picking a few words of the new language. Moreover, the app also saves translations in a folder that can be accessed later while the option of predictive typing ensures that users don't have much trouble with the translated texts.
Speak and Translate
Speak and Translate is a translator app, which ensures that whether you are connected to the internet or not, you never feel bound by it. This fantastic app works equally well while being connected to the internet. Just make sure that when you are using the online version of the app, your phone is connected to a fast and reliable internet service like Grande Internet so that there are no hiccups or connection breaks. The best part is that a user doesn't need to open the app to translate.
The slight menu bar feature ensures that a piece of a foreign text can easily be translated. This easy yet convenient utility is so far not available, even in the most popular ones, and easily makes the Speak and Translate mobile app a clear winner among the rest! So far so, the app supports 117+ languages and even if offline, the app can help you translate all kinds of texts on your phone into around 59 languages without causing any hassle at the user-end.
Translate Now
Another translation app that is ideal for offline use is the Translate Now app. While the app supports 59+ foreign language translations, even when offline, 117 languages are duly supported by the app. Camera translation, also known as Snap mode, linguistic detection during general conversations, and iCloud integration utility among many other features stand out in the app.
However, this app still utilizes Google and Microsoft's backend service for accurate translation. This easily makes this app one of the most popular apps when it comes to performing translations in offline mode. The app easily is installed on iOS, however, in-app purchases are involved.
Google Translate
How can this list not include Google Translate, one of the most trusty translation apps after Microsoft? This app is free and compatible with both Android and iOS. Currently, the translation app supports text translations in up to 103 languages whereas, for speech translation, around 32 languages are supported.
The app performs image translations in around 50 languages and even performs handwriting translations in 93 languages. Google Translate can also be used offline and also translate across various other apps. No wonder, this app continues to be number one in the Play Store and the App Store.
Final Words
So there you have some of the top translation apps that will help you with translation within no time. Even though we have just skimmed the surface with the above-mentioned list, this is just to give a basic guideline when it comes to translation apps. Just check that your current internet connection is not prone to breaks, otherwise, that can spoil your tempo at work. However, if you are constantly suffering from bad internet days, we suggest that you visit BuyTVInternetPhone and find a connection, that's better, reasonably priced, and fast!
Hope this helps!